About Roman
"We enjoyed you and your band!"
-Billy Cox (Jimi Hendrix)

"It was a blast playing with you! "
- John Popper (Blues Traveler)
"…a MONSTER on the axe, Roman eats, sleeps, and breathes guitar!"
- A.J. Fritz, WLVR 91.3 FM, Bethleham, PA
"…Burnin'! I really enjoyed the experience"
- Pat Martino
Website: www.romanmusic.net
Email: romanuwr@aol.com
Phone: 610 306-9204
Roman (a.k.a. Matt Roman) is a full time musician and has performed in the US, UK, and Europe. He has studied jazz with Pat Martino and Tom Kozic, played bass for blues master Bobby Radcliff, and performed with Jon Popper (Blues Traveler) and Charles Fanbrough (Jazz Messengers.) He has opened for countless famous jazz, rock, and blues artists.
Some of his various projects includes KIND OF BLUE (jazz and jam band material), ROMAN & THE HEARD (hard rock and originals), The FUX (punk rock), The HARD LICKERS (local cover band), ROMAN ALONE (solo jazz & blues guitar instrumentals) and most recently GLUE FACTORY, an alternative original rock band.
Roman also teaches music, runs local jams, has won numerous local music awards, and organizes musical benefits for kids. He is a Musical Director for the Upper Bucks Alliance for Creative Expression (UBACE,) a musical organization for kids in his local Bucks County, PA.
Roman appears on 5 full length CD's and many compilations. He has done some background work in TV and movies and music scores for independent film. He currently resides in Perkasie, PA and plays regularly in Philadelphia and NYC.
Below is a personal autobiography detailing his musical experience, teaching views, and personal history of hardship and success.
| | | |
| --- | --- | --- |
| In Grade School | In NYC | England/Europe tour |
"I can highly recommend Roman for his professionalism, and great musicianship.
He is versatile, well studied, and a great Entertainer."
- Mark Walsh, Composer, Producer, Guitarist (Sister Sledge)
"... not only an exceptional musician, he is dedicated to the success of any event he and the
group are part of. They are a class act!"
-William Quigley, Proprietor, The Washington House Restaurant & Sellersville Theater
"... a visionary beyond genre. He knows what it is to be a package deal.
- Bev Conklin, Event Director , Lehigh River Blues Jam

| | | |
| --- | --- | --- |
| Blues with Jon Popper from Blues Traveler | Jazz with Pat Martino | Jamming with Steve Kimmock |
Time Line
Moments that shaped my musical life
1958 Born Allentown, PA
1968 First real guitar: Gibson ES-125 with a P-90
1972 First solid body: Fender Mustang
1975 School Of Arts, Lehigh County Community College
1976 Graduate High School
1977 Philadelphia guitar lessons: Calvin Harris
1982 Electronics degree, Lincoln Tech
1988 Various bands of drug induced failures
1994 Finally sentenced to maximum security
1996 Released: A second chance



1997 The FUX get airplay
1998 First Eastern US tour
1999 First UK tour
2000 Two UK tours, begin teaching
2001 First Kids Jam event
2002 Begin lessons again with Tom Kozic
2004 First European tour
2006 Guitar lessons: Pat Martino
2007 Get married!
2008 Guitar lessons: Bobby Radcliff
2012 The Past catches up




Topics
My life divided into categories and detailed below
School Daze
Schools Out
Prison
Released
Some Bands
Teaching, Teachers
My Teaching Method
Press & Awards

School Daze
"He has potential, if only he would apply himself..." is what I was told on a regular basis. The problem was I didn't want to apply myself... to geography, or math anyway. And sports...preventing a fly ball from breaking my nose...or running to keep from inevitably being tackled seemed...well, certainly not very lucrative.
I came from a big family with a lot of music in the house. I'll never forget there was a 45 record...Hound Dog...the Elvis one...that was cool. These Yeah Yeah Yeah guys came out, The Beatles. I had a big family and they all had records of their eras: 78's, 45's, the LP. Big bands, jazz, rock, R&B, Funk, Fusion...I listened to and ruined all their records.
I started lessons when I was about 10. I borrowed my older brothers 1954 Gibson, an ES-125 (with a single P-90 pickup.) I was only in seventh grade when I was accepted in the local Community College's summer program for Arts & Music. I had a four hour major of arts in the morning, and a three hour minor of music, which included an hour of piano theory, an hour of guitar theory, and one hour of synthesizer...very cool! I saw a Hendrix impersonator and was hooked - the Electric Guitar was amazing. I had a Fender Mustang feeding back through a homemade Heathkit tube amp the very next day.
I graduated from High School but just barely, and with as little interest and effort as possible. I never learned to like that geography and math. I was looking for trouble and finding it. I had been expelled every year from 7th grade on. I already had a police record. I was hanging with the wrong crowd: partying wanna - be musicians.

Schools Out, Learning Begins
I moved down to Philadelphia to begin guitar lessons with Calvin Harris, a no-nonsense brother teaching in West Philly. From Calvin I learned a unique system for learning and teaching. It is the method I use today. I moved back to Allentown at my dad's persistent plea to "do something" with my life and graduated with a two-year electronics degree from Lincoln Tech. I learned how to fix all my gear, but again, passed by doing the bare minimum. I was trying to start garage/kid/punk bands: The CREEPS, ARTFUL DODGER, PANIC ATTACKS, the HEAT MERCHANTS. It wasn't paying much, but I was learning and having fun.
But a lot of the bands I saw and looked up to in my hometown were into "the party" - alcohol and drugs, and so were a lot of the places that booked them. It was a real unhealthy scene but it was pretty accepted. It was the social norm from the hippie - 70's - era fallout. Many venues' business' were based on it, they relied on it and encouraged it. That was fine with me...I was happy to play and party...but eventually the party was more important than anything else...including friends and family.
I fell out of the actual professional music scene. I floated from job to job, band to band, and party to party...always ending up in one holding cell after another.

Prison
I served some time, and I have to admit this because:

1) It is my history and a matter of public record, and
2) It had a profound effect on my life...one I sincerely hope nobody has to go through.
Eventually, as a hard core drug addict more than a musician and stealing to support a habit, I was finally arrested and sentenced to multiple sentences of 1-5 years. It was ironically the best thing my anguished parents could have hoped for: Now at least they knew where I was, and that I was alive. Their only consolation once they found out what prison I was in was a counselor telling them "Oh don't worry, nobody has been killed here yet."
But don't think I changed just because I went to prison...half my gang was in there. I was in a prison gang in no time shaking down other inmates, paying off guards, and continuing my habit. No joke, this was the big time and I was fine. Making money, getting high, watching cable TV...until I realized...this is as far as it goes. For this lifestyle, I had peaked. I made it. I'm a "success."
I decided to quit all gang activity, got in the prison drug and alcohol program, even started a music program and an art program. This all impressed the judge, and I got early release after serving two years.

Released
I was literally told I had no future, expect to only have dead-end jobs, and that I'd be back in prison. I was on state parole for years to come. But I was so grateful to be out...to feel a breeze...smell clean air, to see a tree...feel the sun and rain...I was determined that nothing would knock me off my square and put me back there. I got the dead end job...stayed off the junk, reported to parole, put my only spare money down on a used guitar in the local pawn shop, and started looking around for a band. I followed the advice of those I could admire. This time I was determined to make MUSIC THE PRIORITY. Not drugs, not alcohol, not girls, gangs, or "easy money". That was in 1996.
Since then, I've been on many stages, met famous people, been in different cities, states, and countries, and have many wonderful experiences. I have met wonderful people who were positive influences and role models in my life and I try to keep them close and value them greatly. I'm extremely grateful and lucky to have a second chance.
Some cool posters: The FUX in Italy, with my big brother Jim, and an Allentown, PA show.
My brother Jim was with Jay & The Techniques. As a kid wishing I could tour he was a big role model , so it was a great honor to finally be good enough to do jobs with him.

Some Bands
After my release I found my first "opportunity" through a co-worker and had to borrow the leader's guitar to audition. "Just let me jam with your guys, so you can hear me" I asked. He listened and said " You start on Tuesday." I didn't even own a guitar yet! I scraped up what I needed and headed to the pawn shop. This was the first band listed below, IRBD. They even had a video! Big stuff back then.

I'D RATHER BE DEAD (1996) The IRBD band was like so many others of my past...partyers. It actually fell apart before I could quit. I took the reliable guys with me, the bass player and drummer. Frustrated with trying to be politically correct, we started The FUX. Then I was asked to help on guitar with a friend's project, SIGNAL TO NOISE.

SIGNAL TO NOISE (1996-97) STN was an industrial band. No drummer. Many people in our home towns of Allentown, PA and Phillipsburg, NJ just didn't get it. That made us dig it even more. One of our songs, DRUGS AND CANDY, was used in the opening scene of an independent film, released in 2004, called GRACE AND THE STORM. We were also mentioned occasionally in print by Spiderman Comics artist, Scott Hanna. For example, behind Peter Parker you see a billboard in the background with Signal to Noise on it, stuff like that. I have some autographed storyboards from those issues.

The FUX.(1996-present) Angry, bitter, and fed up, I had no intention of trying to be on the radio any longer. We made a demo with a curse word in every song to make sure and called it "HOLY SHIT! IT'S THE FUX!! As soon as the college DJ's were told to not play us we were on the air. I started The FUX in August of 1996, three months after being released. By that winter of 1997, we were booking locally. By 1998, we were doing our own Eastern US tours. By 2000, we had been to the UK...twice! The local newspaper that said they would never print our name were forced to recognize us. We won local music awards four years in a row after that. In 2004 we played Germany, Italy, and the Czech Republic (Austria wouldn't let us in). We currently play regularly in NYC and Philadelphia. We were requested to play the last ever New Years Eve party at the famous CBGB's. www.thefux.org

The CLAP (1998-2000) An original '77 era punk band from my area that had a "real" 45 record back in the day. When the lead singer/bass player, John Loftus, wanted to reform to do some shows with some other classic punk acts he called me to be the guitarist. This ultimately led to me bringing Johnny as The Clap on tour with The Fux as a double bill, using the Fux for his back-up band. We toured in Florida and England. Freakin' cool man. What great times...what great stories. Totally Do-It-Yourself touring tactics, a la Black Flag.

The BLUES SISTERS(2001-03) Frustrated with touring England and being wet and broke, I started hanging out at blues jams. I met two black girls who could belt it out like no one's business. I got them on a radio show and backed them up. I found a Philly drummer and another white boy to complete my sad sounding R&B act, but the girls carried it so dynamically you couldn't help but dig it. As fast as we improved, so did the paychecks. Alas, one went into acting, the other into drugs (sound familiar?) but it dissolved on good terms. I hear that Jean, the actress, is doing well in NYC with work in TV and movies. Once in a while she offers to sit in at a gig.

MAD DOG & BLUES NIGHT OUT ( 2004 - 20010) Rick "Mad Dog" Moyer has graced the stage with countless blues giants and needed a guitarist in his jump-blues & swing band. My apprenticeship with him taught me to put heartfelt emotion in my playing instead of distortion pedals and billions of notes. No effects were allowed, just a guitar and an amp. When I played "impressive" arpeggio's, I got yelled at.

KIND OF BLUE (2005-present) What started as a jam quiet enough for a friends restaurant became a requested soft jazz/blues/fusion act for other fine dining establishments. KOB is currently requested for anything from jazz to blues events, and from Miles to Hendrix, SRV to Benson, and its the accumulation of all my projects so far. I think this will be the best yet...plus you can actually say the name in public. See more about this act at Kind Of Blue

SCOTTY & The SLAMMERS (2006- ?) I have to mention these good friends. Fist of all, Scott "Slammer" Hatfield gave me a break by allowing me to open up for them with The Blues Sisters way back when. Years later, he needed a guitarist to fill-in, and when I found myself doing covers by UFO, Status Quo, Tommy Conwell, and other classic underground 70's rock, I agreed to stay. This act is just plain fun.

ROMAN& THE HEARD (2008-current) Bobby Radcliff. The Pat Martino of Blues. Moved to Chigaco's west side as a teenager in the "60's. Insane. Mad Dog says "You're in New York, look that guy up!" So I do, and I take some lessons with him on down and dirty blues, Magic Sam style. WOW! We became friends with similar "stories" and he started coming to see me and sit in when I played NYC. Roman & The Heard.

The Heard actually started as a result of FUX friend Frank Wood booking me regularly in NYC and Electro Harmonics alumni Allan Otto seeing me do Hendrixy stuff. He dug it and started giving me proto-type EH circuits to try, so I have to give Otto (no relationship to Otto's Shrunken Head) credit for not only the name "Roman & The Heard" but the opportunity to experiment with new effects beyond my wildest dreams. You can see some of them on my pedalboard occassionally.

THE HARD LICKERS (2008-current) My name got around. I was called to do a gig in a neighborhood so dangerous they would no book at night, only in the daylight! We have since been asked back for many similar situations and rough places. It's a good time, just risky. Nothing new for me.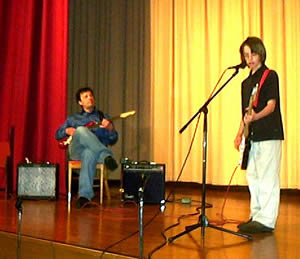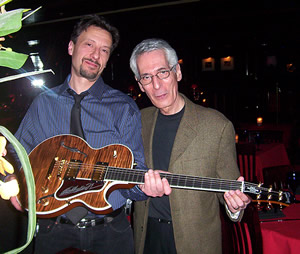 Backing up student Collin Wolf at his grade school talent show, Pat Martino autographs a signature Gibson and hands me his card for a lesson
Teaching, Teachers

After completing my second tour of the UK I was approached to give lessons in local music stores. I had great results with the method I had adapted from CALVIN HARRIS in Philadelphia and had some kids up on stage within two months of lessons at some of the local blues jams.
I began having questions of my own and approached other local teachers looking for counsel, among them AL GUERRA, MIKE DUGAN, and CRAIG THATCHER, who helped me understand the fundamentals that blues required. When I combined that with constantly going to jams to learn, making embarrassing mistakes, and playing with so many different players, I grew much more in all aspects: from theory, to touch and tone, to performance and technique.
I currently study under TOM KOZIC, who teaches at local colleges and universities. He worked with Howard Roberts, Joe Pass, Jack Wilkins, Tal Farlow, and Kenny Burrell, winning the Kenny Burrell Award at age 19. At 20 years old he was playing the biggest venues in the world with Eddie Rabbit, who had some big hits then. More on him and current bandmates at: Nelson Hill
PAT MARTINO www.patmartino.com
I am also currently working on a curriculum prepared for me by PAT MARTINO. Pat is a world recognized guitarist of the highest order. To have had him accept me as a student is a great honor. His method is similar to my approach in that it is based on an individual, not a "method", but of course it's more intense. And, like mine, it revolves around concepts and patterns more than traditional theory. Man, just check out this man's website and story...it's incredible! You won't believe HIS story and what happened to him. It's unique and inspirational.
Tom Kozic and Pat Martino's methods had a profound effect on not only my own personal growth but my teaching methods and principles as well. All my teachers enlightened me about not only music, but my focus, path and endless journey in life.
BOBBY RADCLIFF www.myspace.com/bobbyradcliff
Bobby was taken in by "Magic" Sam Magette on the West Side of Chicago in the 1960's during it's most glorious blues era. He hung out with Buddy Guy, Muddy Waters, all the greats. He drove Jimi Hendrix, not yet a star, around in his mom's station wagon after his arrival from England. Now living in NYC, I looked him up for lessons on the stripped down real Chicago style to do a Mad Dog tour. We've since become friends and he joins me on stage whenever I play in town.

Playing West Side Chicago style blues in NYC with Bobby Radcliff

My Teaching Method

Kids Jam in Easton, PA, little Wiill Kiss (he was at a blues jam after one month of lessons), Chris Morrison and Will at the Easton Kids Jam
I don't make anybody quit. I encourage everyone to do it and get on stage with me. I teach any student of any size or age with a standard-sized electric guitar. If you practice this method daily you will move fast. If you practice less, you move slower. But even if you're new and know absolutely nothing you can be on stage with me within 1-2 months. If you're playing well already you'll understand more, retain more, and play even better.
I often start a lesson with a demonstration and offer this promise:
"You will not walk out of here today strumming some memorized beginning of a Led Zeppelin song...but within 1-2 months you will be able to read a chord chart and solo over it, do it in any key, and on stage at a typical blues jam you'll know what you're doing."
My method is derived from how my Philadelphia instructor Calvin Harris taught. It quickly familiarized me with the entire instrument, advancing me very fast which in turn helped to keep my interest in continuing. Within months I was playing in bands and have been in them ever since.
Basically the weak spots of the students are assessed and they're given exercises to get up to the level of a working performer. It involves concepts rather than the traditional series of reading method books, and a routine of three disciplines:

1) Finger Exercises
2) Chord Vocabulary
3) Theory
The first, Finger Exercises, involves various scales and patterns to develop coordination, strength, and dexterity in both hands throughout the entire length of the guitar. The second, Chord Vocabulary, involves practicing various multi-note shapes and forms or "chords" across the guitar neck. The Theory section involves utilizing what has been practiced in the previous two sections and applying them.
It's not an ancient secret, or expensive membership club, or difficult school course. Just a method with some common sense and a practical approach for making any study time as efficient as possible.

Concepts
One of the primary concepts is understanding that all chords, scales, and focal points can be based on only two strings: The E string and the A string. With a single basic chord shape and knowledge of the E and A string notes the beginner can navigate the entire guitar neck within several lessons, reading charts and playing popular simple rock and blues tunes and progressions.
I also offer to be up there on stage with them. I am very involved in local jams, the local blues network, and even organize events specifically for students. I feel good about giving any time I can to get a student to play out, an opportunity I never had.
I do NOT try to enforce "blues guitarist", or "jazz" or "rock" or any other specific type of guitarist. I do use a blues and rock format to demonstrate the basic fundamentals to more fully utilize the guitar. I progress to jazz improvisation (as opposed to classical) because it is applicable to metal and rock "shredding." At that point we simply apply it to the student's preferred musical tastes.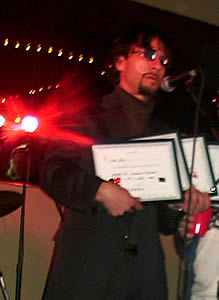 Press & Awards
I don't have any Grammy's. I'm not in Guitar Player Magazine. I have respect now from my peers though, and for me that's success. I see my picture in the paper occasionally...that's especially cool when it's in a foreign country. Every once in a while I get some parents coming up to me thanking me for helping their son or daughter have an interest in music, which I found to be even more satisfying than an award or newspaper clipping. My students get awards. A few of my students have scholarships to music schools now, and get their own press. I try to create chances for them that I never got. Still, I do have some stuff on my wall:
Lehigh Valley Music Awards 2002: Best punk Band
Lehigh Valley Music Awards 2003: Best Lyricist, Best Website, Best Live Performance, Best Punk band, Punk CD
Lehigh Valley Music Awards 2004: Best punk Band, Best Live Performance
Lehigh Valley Music Awards 2005: Best Punk Band
Film Soundtrack: Grace And The Storm (2004) the song "Drugs & Candy" performed by Signal To Noise for movie intro
Video Appearance: The Dwarves-F*** You Up And Get Live
Lots of autographed photos of me with cool guitar masters and pros, some of whom I was playing with on stage.

I don't count the mentions or collect the press clippings anymore...I have my very first ones saved. There are some reviews that you can read on my websites, and there's been pictures, praises, and complaints from here to Europe. The first time my hometown newspaper finally printed "The FUX" in 1999 was a big personal victory for me. My most recent mention as of this writing was last week (June 2006), a local magazine advertising the Kids Jam I'm running.
I never forget that there was another time my name appeared frequently...in the police section of the same newspaper. My parents had to see that OFTEN. And there was a time that I never thought I'd get out of a jail cell, much less out of town, or the country. I am very grateful to have had the help and opportunity to turn my life around and that I was able to open up my eyes enough to do it.
I used to lecture on the prison circuit, having become somewhat of a success by incarceration standards, but mainly I try to compensate for my "checkered past" by creating musical opportunities for others. At the same time I have one goal after another to gladly pursue and challenge myself with for the rest of my life. I thank God that before both of my parents passed away they got to see plenty of the good press. This honest and open account of my life you just read is dedicated to them.
The Past Catches Up - 2012

That's me on the left, pale and weak trying to play a week after being hospitalized.
It was 2006 when I wrote that! Wow, since then even more great stuff has happened and I'm busier than ever! Unfortunately it's a painful update that makes me take pen in hand today. (For my students that's an old expression for when everything was actually written by hand, not typd or txt!)
And it starts with " Boy I'm glad to be alive" all over again. In August 2012 I was put in the hospital (ICU for TWO weeks) and almost died! Again!
Not from current drugs, but from illness and the long term effects of a drug and alcohol past. Yes the past doesn't go away, and liver problems resurfaced after 20 years. I am seeing doctors now more than I have my entire life. And a specialist in NYC. I'm selling anything I don't need or use constantly.
But still I enjoy life. I'm very grateful all over again to have the gift of life, talent, and friends. Now get out there and enjoy life YOU! As Warren Zevon said after being diagnosed with cancer "Enjoy every sandwich."
Thank you for reading!
Back to Roman Music Home Page
All content © 2014 Romanmusic and Uncle Wagon Records (UWR)