Barrymon's Native I & I
"True, True, I Try"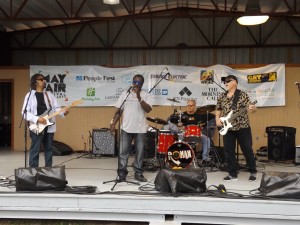 Island grooves and beats
"Barrymon" Green grew up in the Caribbean Islands playing, recording, and producing music his native styles of Reggae, Soca, Pop favorites and local island folk songs.
With "Native I & I" Barrymon uses local musicians Matt Roman (guitar) Randy Graser (bass) and Jim Roman (drums) to brings his authentic tropical island and reggae influences to our area.
Barrymon's Native I & I blends reggae as well as American pop and rock standards into authentic island grooves, rhythms, and beats for an evening of dancing and fun.
Coming soon to an island near you
"Soca" music from his CD
I Miss My Mother
We Can Go Far
Stay Vt Me
What a Night
Miss You
Reggae style fun:
BarryMon Demo II
---
---
Native I & I updated their profile picture.
2 weeks ago