Band pages on Romanmusic
Hi everyone. Well I'm using a new website program, learning it slowly, and trying to transfer four bands and countless jams worth of information on to the Romanmusic.net site.
Eventually it will be more efficient, with each band having a website accessible from this single domain. Myspace links are available now.
Some info for the Romanmusic band pages just may not be there yet, but it will be eventually. . .meanwhile thank you for many years of support and patience!!
Tuesday
December 15
I only have 4 shows scheduled between now and New Years, and two are jams
that you can do with me:
Thursday
Dec 18 jam at Grumpy's, Mechanicsville, PA
This will feature the great Charles Fambrough on bass, and drummer extraordinare
Gary Rissmiller trying out a cool new style of drums made locally.
Sunday
Dec 21 at Otto's, NYC
This has a great line-up: the great Bobby Radcliff joins me on guitar,
Mad Dog Moyer plays the harp, Suavek plays the bass, my bro from Jay &
The Techniques Jim Roman on drums. What a gang! One set only, 7:30, then
we all go up to Rockefeller Center, see the tree, and hit Macy's to look
for a shopping miracle on 34th St.
Tuesday
Dec 30 jam at the Washington House, Sellersville, PA
Join me after between Christmas and New Years to calm down with some soft,
soothing, smooth jamming
Wednesday
Dec 31 prior to New Years Eve, at Seasons Grill, Kutztown PA
More calm but beautiful music from 7-10, enough time to get back home
(or wherever) for the Countdown and celebrating a little more extremely.
See the NEWS item below or SCHEDULE for some links!
OK, what's with
the whole JEW thing? Shlock Rock is a long standing
band with ten years and 30 CD's that entertains the Jewish community all
over the US. They play popular songs with a Weird Al Jewish spin on all
the lyrics, like "My Menorah" (La Bamba) and "Humentashen"
(Satisfaction)
When they wanted
to play Allentown they were short a guitarist, so my name came up, they
sent me a set list, and I had one night to review the songs.
In typical bandleader
fashion, dozens of songs were thrown at me that I wasn't told about. I
did my best and faked the rest, and quite successfully I might add. I
was told I was the man and picked up some students in the process.
I felt a little
awkward at first but immediately saw Glen Wasserman's wife Phyllis, met
others who made me feel totally at home, and enjoyed experiencing some
of the Jewish heritage and culture. It was fun!!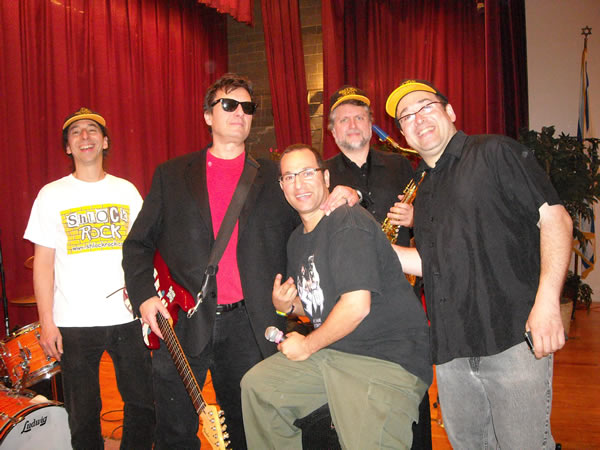 Roy, Roman, J-Rap, Steve,
Lenny
Sunday December
14, 1:30
Jewish Community Center, Allentown, PA
22nd & Tighlman Sts.
I subbed for this show and was welcome back!
Well I hope you're all
ready for the Holiday Season. HEY! That doesn't mean have your Christmas
shopping done, or spend a lot of money, or stress out over relatives and
proper social etiquette, or…whatever…all the stuff I usually worry
about..
It means that
this is a great time of year, a time when people are especially cool…a
time when you can put your guard down and let yourself smile. This is
the ONE time of year when even the grouchiest person has that inclination
to smile 🙂
So if there's
someone out there that you feel bad about, owe an apology, or feel awkward
around, then this is the time of year to NAIL that crap and FIX IT: Give
them one of my Xmas cards! (I have yours for you by the way… yes YOURS!
Ask me for it when you see me!!!)
The "Holiday
Season" means a lot to me now. More than it used to. It's not about
just a reason to drink. It's not about a reason to spend. I don't know.
It's about people. It's spiritual (not to be confused with religious)
but I'm rambling on…next I'll be blabbering about politics, and that's
against my religion, which I never discuss, because it's against my politics.
(Just get one of my Xmas cards.)
What the hell
am I talking about? Since when is this an editorial? Time to get back
to music! Focus Roman!! Time for a picture!
Wow! Look at that!!
Me, my brother JIm, Will Kiss, a great student of mine played that gig
and is now with Media 5 playing all over as FUTERFADERS . Oh did you miss that show? Too bad. You could have said "I knew
that kid when…"
I'm TELLIN YA!
Get to the action that will become the FUTURE! See the few, the proud,
the ones that are happy to sit in on these sessions. Ahhhh…. Just stay
home then!
Yo check this
out: a jam, at Grumpy's. Wait, this
is no ordinarily jam. Suavek from the Todd Wolf band on bass…yup! That's this
Thursday, December 11. Grumpy's.
……………………..
Oh, not good enough?
Next one after that then:
THURSDAY
DECEMBER 18
……………………….
Gary
Rissmiller, drums. Charles
Fambrough, bass. All there to see Gary test the moves on the newest
freaky drum set in action, Stavent
Custom Drums. These are a new, patented design that are going to be
an amazing thing. Gary jumped all over the chance to do this gig just
to get his hands on these. Man, I can't even say it all now…next news
letter.
Kind
Of Blue plays some nice restaurants: Seasons
Grill in Kutztown New Years Eve, and HEY! only from 7-10 pm so you
can chill with smooth music and still ring in the New Year at your favorite
spot afterwards. They also return to The
Union Station Grill in Phillipsburg in January, 23rd
Oh My God! Did
I forget to tell about Roman
& The Heard in NYC on December 21st? Me, Suavek, Jim Roman, Bobby
Radcliff, Rick "Mad Dog" Moyer!!! The Big Tree? Rockefeller
Center? Macy's at 2 am? You better check back for details!
Happy Holidays!!
Roman
Friday November
28
Well …I'm FULL…and my wallets already EMPTY…how about you? I hope
you had a great Thanksgiving Day Feast and had much to be thankful for,
as I'm sure you do. Why, you're HERE, aren't you? I'm thankful you're
here! Thanks for joining the fun.
Did you do "The
Black Friday" ritual? Man, that sounds like some Dark Ages voodoo
doesn't it? I guess it is…to your WALLET!
AW who cares.
Live life! Besides devastating debt and overindulgent eating and drinking
there's great holiday traditions musically, and I hope you can join me
in some of them:
1) Harmonicas
Colossus Rick "Mad Dog" Moyer blows the cold right out the door as he heats up the Summit
Bar & Grill in Macungie, PA. That's Saturday, Nov 29. Mad Dog
on harp and stories, Bear Claw on drums, Wal Tar on bass, yours truly
on gee-tar
2) Lehigh
Valley Music Awards Monday December 1st. It's crazy, it's chaotic.
It's confusing. What the…? Don't complain, it's a labor of love, and
it will never be an organized, smooth-running, seemingly fair and unbiased
event. That's the BEAUTY of it! Despite so many complaining that it's
"lacking this" or "they should do that" and "this
is stupid!" they all show up. And they all shut up when they get
an award, an acknowledgement, no matter how silly the particular award
design is. (One year it was a paper with Dollar Store stickers on it..yeah,
no lie!)
Further down the
line are Grumpy's Thursday Night Jams,
a Wind Down Sundays (Dec 21st) at Otto's
Shrunken Head, NYC with Roman
& The Heard followed by a visit to The Big Tree (Rockefeller Center)
and Macy's (Miracle On 34th St.) shopping at 3 am (open 24 hours
as of that night). You never know who is in The Heard, often it's great
NYC talent. And of course, Macy's and the Big Tree…well, if you've never
seen it, you really should. C'mon!! Let's go!! You waiting until they
bomb NYC for good? Call me…I'll TAKE YA!!
November
24, 2008
First let me apologize,
I'm still learning this new website program so I don't have all the pictures
up. When I get a little more time with my website designer I'll have the
big complete photo galleries up to speed again. Meanwhile I'll post one
or two photos from the events here in the news or on the front page, and
a little later on they'll all be in the Gallery.
This Tuesday November
25 is the jam at The
Washington House in Sellersville PA. There is no jam Thursday
at Grumpy's in Allentown, PA because of Thanksgiving, but be sure too
see me with Mad Dog & Blues Night Out at the Summit,
in Macungie, PA on Saturday November 29
Recently:
Roman & The Heard
featuring Bobby Radcliff
Ottos Shrunken
Head, 14th between Ave A & B, NYC (11 23 08)
…..
Man what a fun
night. To be playing with blues legend Bobby Radcliff in NYC is a real
honor. To add to the credits, Dave Dreweitz from pop punk band WEEN was
in town and played bass. That's Dave's friend Jean Carno on drums, who
is basically the house drummer at Ottos. This is a great scene. All kinds
of pro's and unique and creative acts. Go there!!
Kind Of Blue featuring
Allan Meyerson
New
Scotland Yard, Hoboken, NJ (11 18 08)
This was a great night too,
to a degree. Despite the tiny space (and an embarrassing hissy fit by
someone who shall remain nameless) we had a great time, complete with
panning stereo amps, presenting a "new" kind of blues for the
"New" Scotland Yard. That's Allan Meyerson blowing, and big
bro' Jim Roman (Jay & The Techniques) on drums. We may or not be back
in January, stay tuned to find out.
OK kids have a great Thanksgiving
and keep coming back. Remember to check out all the links and myspace
crap available from the front page!! See you soon I very much hope!!
Happy Holidays!!
November
14
Cute chicks get us the gig
Tuesday Nov 18
Kind Of Blue performs at Hoboken NJ's New
Scotland Yard. This is traditionally a blues venue but Allan's beautiful
daughter and her pretty friends easily convinced the new owners to try
something new. I hope you can join us. You can ride up with us too, we'll
leave the Allentown area around 6, meeting in Hellertown around 6:30
Suavek is back and don't you forget it!!
Thursday Nov 20
Back from constant touring with the Todd
Wolf Band, the illustrious Suavek will be joining us on bass at Grumpy's Thursday Night Jams. Suavek was
key in forming Kind Of Blue and it's great to have his technique and creativity
back. It's also the last jam for November, as the next Thursday is Thanksgiving
Day. Come by and get into it! Starts around 9-9:30
November 10, 2008
iHola!
I just got back from the Dominican
Republic and WOW was that one of the most beautiful spots on earth. Of
course so is New York City, but in different way.
Anyway I'm back and gearing
up for the holidays. I want to thank Don Shatto for helping me with the
new site, Albert Lazerne, Ray Grimmer, Dan Andree and Keith McGonigal
for keeping the Grumpy's Thursday Night Fusion jam going, and all of you
who are hanging in there trying to follow what's going on.
Briefly, in addition to the
jams, I (Kind Of Blue) will be in Hoboken, NJ's "new" Scotland
Yard throwing down a new "kind of blues" Tuesday Nov. 18th.
Then Roman & The Heard,
featuring a who's who of NYC hep cats, will be at Otto's Shrunken Head
Sunday Nov 23, a great way to get primed for the Thanksgiving Holidays.
And the Lehigh Valley Music
Awards are coming up Monday December 1st, Kind Of Blue will be performing.
Don't miss it, I have a new freaky set for you. Also, you can vote for
your favorite local artists (to a degree, and despite some confusing terms)
at
http://lvmusicawards.com/
At the Punta Cana
Airport, and yes, THAT'S their airport facility below! No windows, grass
roof.
OK see you at the jams and
stuff, let's create some new sounds!!!!
November 2008
Hi everyone and welcome to Romanmusic.NET! Finally a website address
you an say in one breath!
I'm sorry for the confusion with the last site, misdirecting everybody
and all that…but I've finally secured a domain that I'm in control of
and I think you can count on some consistency from now on.
All my activities will be accessible from this site: jams, photos, gigs
with Kind Of Blue, Mad Dog, The Fux, The Heard, and any other miscellaneous
happenings.
Please bookmark the new address and visit often, I'm very happy to have
you back!!
See you here and on the scene,
Roman
Old Front Page:
Allentown Mayor Ed
Pawlowski opens the 2008 Lehigh Valley
Music Awards
Monday December 1, Allentown Brew Works, Allentown, PA
Morning
Call Newspaper Pictures
http://www.mcall.com/all-ent-lvma2008-pg,0,1848367.photogallery
Newest Kind Of Blue
member: Allentown Mayor/Drummer Ed Pawlowski !!
"After starting
the program with a proclamation honoring the awards' 10th year, Allentown Mayor
Ed Pawlowski got behind the drum kit with Kind of Blue featuring Roman for some
jazzy Christmas tunes. Like his tenure as mayor, Pawlowski's performance on
the skins was solid but subdued and understated." – Morning Call article. MORE
Roman, Mayor Ed, "award
winning" Allan Meyerson