" I want to thank God, Allah, my mom and dad, my parole officers,
and my wife who has stood by me, and the Byrds and the bees and blah, blah blah…"
With my lovely wife Ellie and a really cool looking glass-prism-name-etched-in-glass-with-date-thing LVMA Award.
12th Annual Lehigh Valley Music Awards 2010!!

Wow! I can't believe it's been 12 years! And it's turned into a gala event. I mean like….the social event of the musical community in the Lehigh Valley. Other people are copying it. Everybody wants one in their town. (Montgomery/Bucks County has jumped on the bandwagon, scroll down to see their very first one this past November)

The first ones were rough…laughed at and ridiculed (unless you won an award, then it wasn't SO ridiculous.) I was in since the very first one, which was so full of unorganized glitches that they asked my band to accept liquor instead of playing time. I still have awards from the very first ones that are literally a piece of paper with glitter stickers on them!

LVMA award 2002:

A CD style thing
LVMA Award 2004:
Sparkle stickers!
LVMA 2006:
Moving up to professional designs
,
LVMA 2003: The FUX perform at the Sterling and create all kinds of bad press (that equals "good" in punk rock)
A comment on destruction: wreck your OWN gear and take responsibility for any other damages.
LVMA 2010:
There was a professional photographer and backdrop present for anybody.

Watch for pix on their site:

Vinnie Lopez (Bruce Springsteen drummer)

Just one of the special guests
The Unicorn Salute: A quirky joke made by founder Bruce Ian that we all decided to try to make tradition.
The award I recieved and the blurb from the program (Yeah! A PROGRAM!)
20 Year Veterans Award Recipient
Matt Roman – Back in the '80's when the Funhouse in Bethlehem opened as a "comedy/original music only" club Matt Roman (a.k.a. Roman) was playing there. His picture is still there on their wall.
The 90's saw Roman overcome personal demons to start the FUX, a punk band that played the US, UK, and Europe.
The new century ushered him into jazz, rock, blues and teaching. He got students involved in the blues jams and still has them performing with him at his local jams.
Having studied and played with jazz and blues giants since then he gained the respect of many in the Lehigh/Bucks county community, even major players in NYC.
Roman now plays NYC to Philly with his own band KIND OF BLUE and tours with MAD DOG & BLUES NIGHT OUT. He occasionally fills in with some local and NYC players and can be seen weekly running jams and open mic's at Grumpy's and The Perk
November
Otto's Shrunken Head Closes Because Of Fire
An actual shrunken head? Just one of thousands of freaky stuff to discover at Otto's
Otto's Shrunken Head, home of the new breed of original NYC rock, punk, weirdo freako music for many years, has shut down due to a fire in the back room. The front room will reopen but the band room will take longer. Meanwhile the party has shifted to Times Square, at Port 41. http://www.myspace.com/port41
U PUKE, U CLEAN $20 Impressive NYC bar etiquette
I first played Otto's in 2000 but when CBGB's closed and then the Continental, two premier original rock venues that regularly featured the Ramones, Blondie, Iggy Pop and The Talking Heads among many others, the creative and eclectic scene had to find other venues to hang in.
Otto's was a relaxed tiki bar with a good vibe and no attitude. A lot of the old CB's gang frequents it. There's no cover charge, reasonable drinks, and a nice personnel. Frank Wood started gathering great original acts there every Sunday night and I played once a month there for the past 4 or 5 years
.
Hanging with the Wood. Everyone likes good Wood
Well now we have to go somewhere else, but Hey! Times Square baby! The parking will suck, but around this time of year, the Holidays, I'm always up there anyway. It's magical I tell ya!
If you've never seen Times Square at Christmas time you'll want to go. The Big Tree and ice-skaters in Rockefeller Center, the real Marcy's as seen in Miracle On 34th St and site of the famous Maycy's Thanksgiving Day Parade.
Ice skaters and the Big Tree, snuggling my baby in the winter air under the tree, Maycy's top floor after the gig ( 2 am?) buying our traditional Maycy's NYC Christmas Tree ornament before heading home
Want to go? I may have room! No parking or driving headaches for you! Contact me and reserve a seat. I'm going up Sunday Nov 7 and Sunday Dec 19 (when Macy's is open around the clock!)
See you there, Ho Ho Ho
October/November Stuff:
Getting a Lehigh Valley Music Award from DJ A.J. Fritz, 2004
Dressed appropriately: a Buckwheat tie and an FUX sticker
Vote: Music Awards!
Twelve years ago in the Lehigh Valley a Music Awards program was established to pay some kind of tribute and acknowledgement to the people involved in the growing musical community.
Sweeping the LVMA Rock/Punk Categories in 2003
It's continued success has spread into Bucks/Montgomery Counties where I now live and perform, so this year I will be on the ballot and will perform there too. It's always a great time! I encourage you to attend if you're in the lovely New Hope area and of course vote for any artists on the ballot you know. You can also "write in" another nomination in various categories if you don't see their name listed. Remember, this is a new Awards group and I'm sure there are plenty of great people in the Bucks/Montgomery County area that deserve recognition!
Go to
Here's the original email from the founding father Ian Bruce!
who: Montgomery Bucks Music Awards
what: Voting begins
when: NOW, ends October 28th
where: www.mobucksmusicawards.org
why: To promote & honor & reward Bux-Mont Musicians and music related persons.
FOR IMMEDIATE RELEASE!!!
Contact person: ian bruce 570-818-4100 or musicnominations@aol.com
Montgomery Bucks Music Awards Voting NOW
    Music Lovers of Montgomery & Bucks Counties can
cast their votes for the Musicians who entertain them
and for their favorite venue, radio station and many more categories on www.mobucksmusicawards.org
starting on NOW and ending on October 28th.
One vote per person, the ballot will not allow anyone to vote more than one time.
The MBMA has two ballots, one for fans – THE FAN BALLOT and one for Musicians, music related businesses and music media – THE MUSIC BIZ BALLOT, the Music Biz Ballot is for Musicians to honor their peers and the music businesses and venues that help them. Persons who vote on the Music Biz Ballot may also vote on the Fan Ballot.
Several awards are named after musicians who have passed away Robert Hazard, Jamison Smoothdog, John Fisher, Jeff Calhoun…The Founder's Award is being presented to Mike Vagnoni, publisher of Out On The Town, for his decades of service to the community, musicians, venues & charities.
For more information please contact ian bruce at 570-818-4100 or at musicnominations@aol.com
The MBMA is produced by MAPPS< a 501 c3 non-profit corporation that also produces www.wiaipa.org and www.lehighvalleymusicawards.org and www.communitylvmc.org
The MBMA will be hosted by Triumph Brewing Company in New Hope, PA on November 8th at 7pm. Confirmed performers are Jim Steager, Paul Kurrey, RUNA, Kind of BLUE, Gracy's Trip and The Large Flowerheads. Presenters include Gregory Gaughan of WBZC, Gloria Domina of Women in Art in PA, singer-songwriter Paul Kurrey and others.
Sponsors include Signal Sound Studios, Hawkeye Country Tavern, Bucks County Drum Company, Martin Guitar,
DeVoe's Music Stores…
This year's LVMA has a special award for several of us old players just for lasting so long!
It's a nice gesture and a great idea…I'd like to see it at the new MBMA awards
Go to http://www.lehighvalleymusicawards.org/LVMA_Awards.htm
Fall!
Hey! That's me and killer grrrl drummer Jean in NYC! Playing thru a provided Marshall stack! Yeah! Rock like it's supposed to be heard! Man what a great time. Once a month I make a trip to see old friends in NYC for a knock-down drag-out one – set – only show. Anyone who can fit in my van is welcome, we go up early, I show you some sites, and then we rock in a really hip and cool joint, Otto's Shrunken Head.
I hope you can join us! Or follow along and bring your own friends. They won't get hurt, they'll think your hip and they'll talk about it forever!
Pay attention to the monthly listings, and the December one around Christmas time is not to be missed! We hit Rockefeller Center for the Big Tree, Macy's (THE Macy's…"Miracle On 34th" St Macy's!) after hours for our traditional tree ornaments, and that's not even going into the fall and Thanksgiving Day shows. Stay tuned.
Meanwhile I'll try my best to entertain you in my local PA spots, The Perk Open Mic every Wednesday, Grumpy's Fusion Jam every Thursday, dates with Mad Dog Moyer and Kind Of Blue throughout the upcoming months. Just check my SCHEDULE and find a town near you!
Another pic from the last NYC show:
Pat (Mad Dog & Blues Night Out), Tim (The FUX, Power Valve), Ellie (my WIFE!!!XOXO) inside McSorely's before the show
Hey! Happy Halloween!
Boo!
August
Revenge of The FUX !!
The Fux in England, 2003
Roman & The Heard, NYC, last July
Hi everyone!
Have you've noticed I posted a few of the photos from my old FUX days throughout the site?
Man those were wild and fun action filled sets! Bloody even!
The FUX show was what started the eating-the-burning-guitar gimmick, and it took us all over the US, UK, and some countries in Europe.
I learned a lot about music, the business, other countries, their people and cultures, etc.
One of the rougher, but not uncommon, FUX shows.
2nd Av, Bethlehem, PA
I got health insurance after that one, before going to Europe
I don't do much as "The FUX" anymore, mainly because I'm busy with other projects that are more …acceptable! And lucrative! And SAFER! But from the FUX I learned a lot about showmanship and entertainment (not to be confused with talent, education, or technical proficiency) and it carried on to my other performances. And now maybe The FUX are back…here's why.
Any chance I got to bring some of the FUX show to a legitimate rock or blues audience I did. I actually did a wedding with the FUX act as a grand finale for Dylan Guerrero &Family by request. They also got smooth jazz for supper first, then a set of rock and blues.
One of the best opportunities was Musikfest 2008 where I had top notch jazz cats catching any musical curve ball I could throw at them! I knew this was the perfect chance to use the ultimate FUX trump card: The Burning Guitar!
Kind Of Blue at Musikfest, Bethlehem, PA, 2008

One guitar on fire against another, both plugged in,

and
panning left to right in stereo.
Two camera's showed it on local cable… I've never been allowed to play there again.
Man the jazz guys with me were wide-eyed and in heaven. They had never seen anything like it. The sets we did were already awesome, we were rockin, doing blues, and nailing the jazz shit like motherfuckers. Now they had a show. They'll never see THAT again in their lounge acts. Anyway, I had some fans there that knew what to expect, but the band didn't! I just told them before I went on "…if I do something crazy like light my guitar on fire, DON'T STOP PLAYING…"
Well now I play NYC regularly as Roman & The Heard, one Sunday a month, one set at 7:30, at Otto's Shrunken Head. And it's been great. The FUX have played New York since the Europe days. CBGBs, The Continental, Trash Bar. Then Frank Wood in NYC started booking The FUX from Brooklyn to Miami.
The past two years I had the honor of playing with blues legend Bobby Radcliff. Guitar and sometimes bass when neccassary.
He started appearing at my sets just for fun because he lived around the corner.
Learning REAL Chicago blues from a master.
Bobby Radcliff on the left, me with a Stooges shirt.
Otto's Shrunken Head 2009
Playing bass for Bobby at B.B. King's, Times Square, NYC, May 2010
He no longer lives so close by, so I returned to guitar duties at Otto's and started getting crazy. We have a great regular drummer there, Jersey Girl Jean Carno, but needed a bass player. I had crazy Otto (no relation) from Electro Harmonix bringing all kinds of cool new gadgets for some shows, but now I have my old FUX commrade on bass, "Timid" Tim Sostak for the next couple of shows.
And we're starting to do some of the FUX arrangements.
| | | |
| --- | --- | --- |
| Tim last July in NYC wearing a Sunderland jersey he got in England…a big mistake at the time since we were on tour with ,their biggest rivals, a band from Newcastle | Jean last July willing and able to pound the shit out of something…thank God she has drums in front of her | 2 out of 3 FUX agree! |
Me, Jean, Timid. Otto's, June 2010
It brought back a lot of great vibes for me and Tim and consequently some real sparks and energy. I hope you can make one of the Roman & The Heard shows at Otto's in NYC. I leave from Perkasie PA but often have room to pick up people along the way. Come if you want, or make a point to visit NYC on the day of the month we're there. I promise you a set you won't see anywhere else. The people are real cool at Otto's too…no attitudes. And there's lots of old school CBGB's regulars, people from The Talking Heads, Television, Blondie, Patti Smith.
Come out and see!!
Happy 4th of July everybody!!
Well, another year of independence from the Royal Crown is under our young nations belt so it's time for me to tell my annual July 4th story. And it involves England too, so it's appropriate.
Back when I was working my punk band The FUX we agreed to do a tour of England with the Newcastle/Nottingham band PANIC. In return we arranged a tour for them over here.
The tour went well and led to more tours of the UK and Europe, but now it was time to bring the lads over here to see the USA, home of Hollywood, skyscrapers, hot rods and bikini's. Pool parties, decadence, overeating and waste. Of course we all know that's just in the movies. We went to pick them up at the airport in NYC. By coincidence it was the July 4th weekend.
The boys were wide-eyed and astonished. They marveled at the bridges on NYC (they never rebuilt most of the ones destroyed in WW II) and were most excited to buy Converse sneakers and eat at Taco Bell. But the funniest thing of all was EVERYONE WAS PARTYING!!
As we went through our typical FUX circuit of NYC (CBGB's) Buffalo, Chicago, Nashville, Atlanta, other tiny towns and eventually home, all they saw were hot rods on the highway, flags waving, fireworks, and pool parties. Of course everyone was having a picnic and celebrating. They couldn't believe it. IT WAS JUST LIKE THE MOVIES!!
We had to tell them it's not like this everyday, but they didn't believe us. Even our music stores far exceeded their small countries variety and selection, and to add insult to injury, even Marshall amplifiers, made in the UK, were cheaper here than over there! They now officially hated us and cried when they had to go home.
Well that's my story. Enjoy your holiday, and your country. I know there's plenty of problems with it, but if it really gets to you, go buy a Marshall Amp!
See you at the pool!
On Wednesday June 2nd
I WAS TO BEGIN an Every Other Wednesday open mic The Perk, from 9-12, in my home town of Perkasie, PA. But when we realized it was a Flyers Stanley Cup game we decided to move it up a week. The Every Other Wednesday still stands as listed on my schedule, so I'll be doing two Wednesdays in a row, but still three altogether this month:
Wed June 9
Wed June 16
Wed June 30
I'll honor the acoustic players that have been coming but I'll accommodate anything. I'll have a couple amps in addition to the PA for y'all to sing and play through. Everyone gets to play. Everyone gets in on it. Everyone have fun tonite. Everyone wang chung tonight.
Thursday June 3rd
is the Allentown area's Grumpy's BBQ Jam where we mix up a real gumbo of rock, blues, fusion, and honest-
to-God power jamming. I'm serious, we're making a scene there. And you don't gotta know sh#&! You come in ready to improvise and my band will open up doors that no other jam in the area can pull off.
Friday June 4th
I'll be with Mad Dog Moyer & Blue Night Out opening up at The Pig Pen in Allentown. We play an early show, from 7-10 pm, then the party bands come on. Come out if you're an early party person, get in early and get home…or stay without the cover!
Saturday June 5th
It's a BIRTDAY PARTY at The Perk!!!
For……..YOU!
And Me!
And my brother!
And EVERYONE else too!
That's right! Saturday June 5th we celebrate EVERYONE'S birthday. I'll have a card for you and we're all having snacks, wings, cake, balloons, (other surprises I don't know about) and Kind Of Blue will play a birthday song just for….all of us!
I don't care when your birthday is, we'll all celebrate together on that night!
Sunday….hmmmm, nothing! Well, lets go swimming!
Need directions? Info? go to the SCHEDULE and get the links!!
May
BB Kings, NYC, Friday May 7
with The Bobby Radcliff Band
Monday May 10
The BB King's gig went great! I came with charts for 5 of Bobby Radcliff's CD's and a main List with every song and it's key. "Wow! This is practically my whole catalogue. Can I have this?" "Sure Bobby, I ran off two."
But not only was this an important bass debut for me, it was an endurance test. We played from 8 pm to 2 am. Grueling. Got home at 5 am. I had to go back to NYC Sunday to do my regular Otto's Shrunken Head gig, and man, what a cakewalk that feels like now. I poured out energy knowing I only had to do one great set.
The scene outside loading in at BB's around 3 pm, 42nd between 7th & 8th
Enough of the past. Some highlights:
Mad Dog at Grumpy's on Saturday May 15. Uber blues and ribs wit' greens. C'mon, you can't argue with that!
Saturday May 22nd. I'm back in Bucks County at the Montgomery Mall's TGIF with my boys Kind Of Blue, layin' down cool jazz in the first set and throwing some classic rock covers to end the night. Dig it, then rock.
JUNE
At The Perk I will begin hosting their Every Other Wednesday Jam. It begins Wed June 3rd. Acoustic solo, duo, electric bands, anything. I will accommodate!
KOB at The Perk on Saturday June 5. It happens to be my birthday (Argghhh!) so we'll be a little looser and crazier. Traditionally my brother Jim and I celebrate ours together. Come and get some free food and cake. Sit in on a birthday tune.
Sunday June 13 Mad Dog will compete in the Lehigh Valley Blues Network's Memphis Challenge. James Supra was last year's winner. Good for you James! Hope to follow in your footsteps.
Who cares? From there I'm high-tailing it up to NYC for another Otto's Shrunken Head gig, this time with FUX bass man Tim "Timid" Sostak and Jean "NYC" Carno on drums. Want to see what it's all about? Meet me along Rt. 78 AND JUMP IN THE VAN!
Last but not least Jean Carno, the heavy hitting chick on drums with me at Otto's will have Bobby Radcliff and I support her in one of her favorite NJ bars BLVD Bar & Grill at the end of the month. Details on The SCHEDULE.
Blues, Rock, Fusion, playing guitar, bass, solo's, duo's, trio's, more!! Check The SCHEDULE, get the details and directions, and see some variety!
Thanks Kids !!
Saturday May 1st
Why would anyone drive for hours up to NYC, fight traffic, pay tolls, and play in bars that smell like 50 year old beer and piss for no money? Because that's COOL!!!
I guess it's cooler than doing all the same stuff in a tiny town where no one will notice you. Just not as cheap. For me, the people I meet are worth the time and money…easily.
This weekend, Friday May 7, I'll be the bass sub with Chicago/NY blues legend Bobby Radcliff at BB Kings. Bobby started jamming with me at Otto's Shrunken Head. Gave me some lessons in the history of real blues first hand. We became friends, and he needs a bass player.
And speaking of real blues, Saturday I'll be back in the Allentown PA area with Mad Dog and Blues Night Out. West End Youth Center. See him now. Mad Dog hits the road at the end of the month, playing JM Randalls in Viginia. He's out there selling his first new CD in quite a few years…and I'M ON IT. So BUY IT!
Sunday I'm back up in NYC at Otto's Shrunken Head, where it all started! Join me! As my good friend Fred would say "Get off the couch!"
Before I go a head's up for June. The Perk will have me run their open mic nite every other Wednesday starting June 2nd, filling in for the summer for John from The Mango Men who's on tour.
I'll not only be happy to accommodate all the acoustic regulars, but will encourage electric soloists and complete bands too. I'll bring two amps for guitars and y'all bring yer own percussion stuff…some bass? Uprights welcome! Maybe I'll have my bass rig on me too. Anyway, watch for it.
A good pre-requisite for this is Revivals, once a month, in Perkasie, PA. My infamous "Roman Alone" gig, where I let people sit in regardless. Let's all have fun.
In addition to these new things it's business as usual at Grumpy's every Thursday. We jam like MFr's, no joke. No jam has the freedom we offer, because as you know, freedom's just another word for nothing left to lose.
Don't miss Kind Of Blue either, playing lot's of classic rock these days with Mike on keys/bass. Different than guitar driven bands, with stuff like Traffic, Joe Cocker, plus Miles and the SRV-Hendrix whirlwind of stereo fusion. What did I miss?
OK go to my schedule for details, directions, and other stuff I forgot. Hey I miss you guys, and need you. I need you at Grumpy's, The Perk, Revivals, NYC…well NYC never neads anybody. But all the other places…Man! Would I love to see you!
See you soon?
Roman!
April
This past Sunday (4/25/10) I attended the 4th annual Jazz Bridge Benefit Concert. It's an organization dedicated to assisting Philadelphia area jazz musicians in times of crisis. It helps those who are left by the wayside simply because they can't afford "good" insurance.
Pat Martino, guitarist extrodinaire, Tony Monaco, B3 maniac, and Jason Brown, native New Yorker and internationally requested jazz drummer, provided entertainment. Pat's film "Martino Unstrung" chronicling his personal tragedies and comeback was shown, followed by a Q&A and concert.
More information on Jazz Bridge at Jazz Bridge.org
Monday 4/26 I was in NYC for a rehearsal with blues great Bobby Radcliff. Man, that's hard work! Anyway we managed to catch the last set by Mike Stern afterwards, and we were all inspired. Don't miss any chance to see either of these guys, and you can see me backing up Bobby on bass in the future: May 7th at BB Kings in NYC.
More locally,
Tuesday 4/27 is the monthly Wash House Jam,
Thursday 4/29 is the weekly Grumpy's BB Q Jam,
Friday 4/30 Mad Dog at The Pig Pen, and
Saturday 5/1 Kind Of Blue's monthly 1st Saturday at The Perk.
Thanks for reading everyone!! Let's jam!
Roman
Hey good morning!
4
The big news is that Mad Dog and Blues Night Out has a new CD and opened for blues legend James Cotton on Thursday April 15 at The Sellersville Theater to present it. Did you miss this chance to see blues legends?
The Continental, NYC back in the day of live music
with Tim and lighter fluid
A great time at Otto's Shrunken Head in NYC on Sunday, with my old FUX cronie Tim "Timid" Sostak on bass, Jean Carno on drums. We rocked the place. Catch the next one in May, on Mothers Day. Say Hi to your mother for me. (That's a Saturday Night Live sketch, satirizing Mark Walden, so don't get all creepy on me if your Mothers has died or something. Mine has, so get your lobby group working on something else worthwhile.)
Kind Of Blue continues to get jobs despite the fact that we play no popular requests. With Mike on keys/bass parts the Doors stuff is so awesome…maybe that has something to do with it. Watch the schedule and pay particular attention to when KOB appears as a quartet with Allan Meyerson on horn and flute…man that's one smokin' night! You get rock, jazz, blues, fusion…Doors, Traffic, Miles, Hendrix, oh MAN!
Of course there's the regular Thursday night Jams at Grumpys and I will be at every one.
Some new venues for me throughout the month…have a peek at my SCHEDULE.
OK thanks for reading!!
MARCH
of The Mad Dog
Hi folks!! Man it's sure been one historic snow season! I certainly picked the right time to buy a snow blower. And vacation in the Dominican Republic! But it's time to get back to business.
March prominently features Mad Dog & Blues Night Out. Harmonicus Colossus Rick "Mad Dog" Moyer has been established since the '70's and has performed for and with many of the old original masters of the blues, from Junior Wells to Buddy Guy. Mad Dog & BNO will be breaking in their new drummer Duane Martis at Lupos and Grumpy's in Allentown and McStews (formerly AJs) in Levittown. I hope you can get to one of these shows and see some old school swingin' blues.
March features a new jam. Lupos will have ONE jam a month, the 3rd Tuesday of each month. Remember that! THE THIRD TUESDAY of each month. It's a good chance for your band to audition and get a gig there. Of course there's also the LAST TUESDAY Jazz Jam at The Washington House, and EVERY THURSDAY at Grumpy's. See my schedule for times and direction links.
Last but not least Kind Of Blue returns to The Perk on Saturday March 13. Playing the Perk features Allan Meyerson on horns/flute and Mike Fossa doing Doors style keys/bass. It always brings out a bunch of The Wash House gang and we dance around and rock and try to take over the joint. Jen the manager doesn't mind…she encourages it!
Alas there is no Roman & The Heard (Otto's Shrunken Head, NYC) or Roman Alone (Revivals, PA) gig this month. Make sure you find that act in April.
So long for now, keep on shovelin'
Roman
Get Ready!
Here it comes…again!
Is the gig on? Is it off? Even I don't know! It figures that the one month I don't want a lot of jobs is my busiest ever. Snow already killed two of them, but I've also been fortunate enough to have some jobs right before the storms. However, with the news people trying so hard to scare the hell out of everybody the day before the storm the turnout has been very low, not what is expected…but those people that come out! Like these girls and Scotty & The Slammers last Friday at Lupo's. Wow…wild!
The last big snow scare, Friday Feb 5,
Lupos Jam in Allentown
And then we all drove home in some flurries, stopping at the crowdless supermarkets to stock up before going home, and wake up to a beautiful winter wonderland and a day off from work.
Hey, that's better than waiting inside all night before for the sky to fall and now realizing …you're staying inside all day and night again! So get out! While you can! See that show! The sky won't fall! It just get a little freaky. Shopping is way easier!
Ahhh it'll all be over very soon, and just in time for the weekend. I have two new Bucks County jobs on Friday and Saturday so check my schedule and be there!! Snow not included!!
End of (sob!) January, 2010
Hangin' at The Head (Otto's Shrunken Head) with Bobby Radcliff in NYC last Sunday Jan 24…
It was a rough start my Dear Readers but now the New Year is underway and I can't turn back. Broken laptop and all, it's music that's going to save my soul as it always has.
I turned on my missing-keys laptop (it's like a broken typewriter) punched in NEWS and was determined to write. I put on the headphones and started up some smokin' fusion (Mike Stern right now) and decided to start typing to see what came out…
February is upon us, looming over my shoulder like some great dark romantic beast. It is the month of Valentines Day, the St. Valentine's Day Massacre, and my wife's birthday. And up until a few moments ago, a pretty slow month for jobs.
It turned around, as the I Ching tells you it always will. My wife Ellie and I along with Sergeant of Photography Don Shatto just went up to NYC to help blues legend Bobby Radcliff move into some nice upper East Side digs on Sunday, then Bobby and I played at Otto's . Ever since I got back gigs have been popping up.
Allan Meyerson, NYC, sax, flute. Allan played with Blood, Sweat, and Tears guys.
If you don't know that act look them up. They're big time back in the day.
I'm playing three or four new places this month with Kind Of Blue, and most of it will be playing some classic rock because that's fun and so requested, but still adding R&B to dance to, soul for your soul, jazz, fusion, whatever. I never know myself what the regular charts will morph into, but ….well, come out and see. Some shows we're a quartet, with Allan Meyerson on horns and flute, other as a trio, with Mike Fossa supplying the keyboards/bass a la Ray Manzarek to my guitar and my brother Jim's drums.
Mike Fossa played keys/bass with Robbie Krieger from the Doors, G.E. Smith from Saturday Night Live and many more.
He'll play anything and kick ass doing it. Awesome "keys-slash-bass."
For the first time, on Saturday Feb 6th, we'll be at The Leather Corner Post, home of some of my favorite jams. If you've never been here before I hope you make the effort to come see what we do. Allan will be there with horns, flutes, effects, so it'll be cool!
Later that week, for my Bucks County friends, the Kind Of Blue Trio will be opening a brand new big music and dining hall in Collegeville called Hemmingway's in Collegeville, PA. First we'll play the private invitation only opening on Tuesday Feb. 9, then the grand public opeing on Thursday Feb 11th. ( I have a special old friend of the Lehigh Valley to run the Grumpy's Jam for me…it's a surprise!)
Then, on that Saturday, Feb 13, before Valentine's Day (you boys didn't forget your sweethearts did you?) we'll play at Bone's Grill in Lansdale. It's a super easy stop right off the PA Turnpike's Lansdale exit. Come off the exit, turn left, and after the light its on the right.
Finally, we'll be at TGIF's Montgomery Mall spot, on a Friday of course, on a date to be announced, which I may have before I even proofread all this. But that's a nice scene there, not your typical chain store TGIF place. They've had bands on Fridays for a while and may add Saturdays. It'll be rockin'.
No matter what, you can expect to hear something by some groups you know, some you haven't heard of, and done differently than anyone else who's covering their popular hits. I bet you like it. And I bet even if it's a song you've heard a million times, it'll be a fresh take on an old great favorite.
Watch the February schedule closely, its changing as I speak…but I know some of you can have some fun by joining us so make the trip to wherever we are near you, and if you don't come to see the new places, there's Grumpy's High Octane Jam every Thursday and the regular NYC Shrunken Head and of course the Last Tuesday Washington House Super Scenes in Sellersville.
Bring your Valentine!
Hi John(drummer)! Hey remind me to give you Jeff's (friend I'm holding up) address in jail!
January 17, 2010
Hi everyone! My holidays went real smooth…I knew it was too good to be true.
As soon as Christmas was over and I had opened many wonderful trinkets and presents that I didn't need…everything I really used started breaking.
My DVD player, my laptop, the mailing list, my printer, my phone, my kneecaps!
Well, it's a rough start dear readers, my email list is messed up, but if you want to be put on it just contact me and ask.
Hey I'm a little guy (no thanks to you Columbia) I try to play music, not my space and facebook myface and everything else. I got the myspace sites going but probably won't be much fun on facebook with everything around me in need of repair.
But what cool music! I'm at a few places from NYC to Phila. regulary, and lately I've been backed by Mike Fossa on keyboards/bass, (like the Doors guy Ray Manzerak.)
I'm telling ya, he does such a good job that Robby Krieger from the real Doors uses him. Now you know you're hearing authentic classic stuff!!
I will be starting some new jams and playing new venues. Check my schedule, see where I'm playing, and support my bands and jams and live music. Since I can't email everyone with obnoxious regularity I suggest you just check back here and find out what is new on my schedule and why and whatnot.
Hey! You're all invited to jam alongside of me. Accept no substitutions! Only my jams allow you utter and complete creative freedom for improvisation!!
Come on out and dance!
0hhhhh!
Your humble narrator and Mrs. Roman
First of all, Thank You to all of you for being here! I had a good year and I hope you did too.
Now by "good year" I mean I am still alive, despite many hard times. "What doesn't kill you makes you stronger" and all that. But more realistically, I had many personal defeats, and many professional triumphs. It's all part of the balance of the Universe.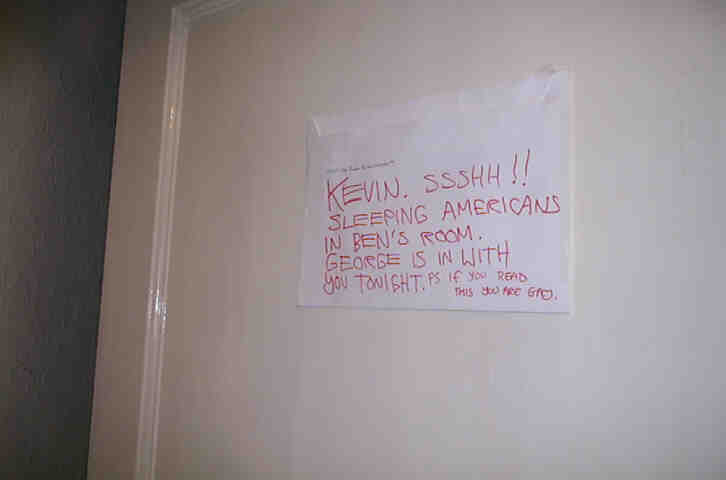 On tour in England somewhere, crashing in someone's room (Bens!)
A new year causes you to reflect and look back. Go to my Biography and I'll really take you back. I went from touring Europe in a punk band to doing solo performances in the cozy restaurant up the street.
Revivals Restaurant in Perkasie, Pa, 2009…my new town
But go to Facebook, the newest trend, and I myself am taken back to …. grade school!
Facebook. OK, I'm finally on it. I guess it's the simple answer to My Space. Which was the cheap guys answer to buying an actual website domain name. Ok, I'm on it, but I was forced into it.
Back in 1996 my punk band The FUX had a "real website" courtesy of Brian Airgood (now a producer for FOX Phila.) Back then you had to know the HTML language of computer programming to have a website.
The Fux circa 2005: Me, Tim Sostak, Brian Airgood
Thank you Brian! WOW! Only company's and corporations and big label-backed bands (corporations) had WEBSITES!!
And we used it! I had stickers made up with the site on it, took pictures of everyone I could at our gigs and handed out stickers to anyone I took a picture of. You saw your picture on THE INTERNET the next day or so.
Recent Fux sticker, thefux.org. Originally the site was www.bigfat.com/thefux.
We had a lot of fans ending up on gross porn sites. But that worked too.
These stickers can be seen from Chicago to Milan, in clubs, on street signs, on tons of great bands gear and cases that we met or played for. WOW! The FUX website had hundreds of "hits" a day, thousands a month.
Then (1999?) a band we were signed to tour with said "Hey, there's a new thing called My Space for bands to network with. We're all using it."
I immediately got the free site as "Roman" and began using it to network my bands. Then I saw it being used for personal stuff. OK, live and let live. Then I saw it being used as a way for anybody, like a … 12 year old, to also have their own website. Hey! That's not fair! I pay for a website! With CONTENT! Not personal …dribble!
Where do I pee in this damn country? In Wales, 2003
I ignored My Space for years until finally, on a tour, I was constantly being asked "are you on My Space?" Yes, I'm on My Space, but I have a REAL website too. "But are you on My Space?" Eventually it became clear to me that My Space was the new Yellow Pages. And the new attention span of 30 seconds.
If you wanted info, you went to myspace, found the band (or grade school friend you were on the bus with in the morning) and then went from there, used it to get to their real website, and asked them to be "your friend."
Since I wanted to be found I set up My Space accounts for my band The FUX. Then for my band Kind Of Blue. Then for all the other bands I need to make a living from. I thought I had it pretty together, being independent and not having a record label set up accounts and maintaining them for me ( you don't think Bob Dylan or Beyonce' really maintains a My Space or Facebook site do you?) and having all the bands I work in on one site (ROMANMUSIC.NET) which included a web page and a my space site.
But NOOOO!!!!. Now all I'm asked is "Are you on Facebook?" Why would I be on that? You can't download music. It's very limited. It's for your personal FAMILY. Or some friends that you don't want on your My Space site.
I want to fight technology, trends, unoriginality, simplicity for newcomers to networking, and the masses. But, if you can't beat 'em, join 'em.
So yes, I'm on Facebook! Like every other 12 year old. But now, like every other 50 year old, grandma, mom, dad, school chum, kid…and…band.
I will use Facebook if your are my FAMILY. Or a FRIEND. Even a long lost friend or even that kid I hated on the school bus back in…1885…but if you are a band, or a legitimate promoter or venue that I need to do actual business with, please use my REAL website: this one. And my email. You want to connect?
Keep my family out of it. And actually, even my family should just use my email, I know I can't keep up with talking through a My Space site so Facebook won't have much of a chance for replies either.
Look at this site. I have music samples, website front pages along with a My Space site for actual music, photos by the bucket load dating back as far as my most recent uncrashed computer, and it's all for you to enjoy. You don't have to have me accept you as a friend or whatever.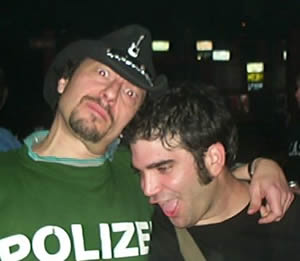 "I love you man!" A great new "friend" on tour in Germany
It's all so extensive it's a little confusing to me. First websites. Then Myspace. Then Facebook. Twitter (don't even get me started!!) PC's. Laptops, notebooks, iPhones, netbooks….Arghhhhh!
I love you all for all that you offer and add and advance. But with several bands to need for a living, forgive me if I don't immediately reply to requests or friends or faces or whatever it's called now.
Now excuse me, I have six My Space sites to update, and a Facebook site to figure out…after I upload this REAL website!!! Man…I wonder what I'll be dealing with in 2011! A two-way wrist radio? Maybe My Space and Facebook will merge…into… My Face!
Happy New Year to YOU who has the initiative to be on a real website!!
Early communication on my first tour of England, 1999. We all called our moms from this booth.