Roman Music | Kind of Blue | Roman and the Heard | The Fux
OLD NEWS

RomanMusic MP3's online
Up until now there was only some video footage of my music and The FUX website with some of their songs available. I didn't have recordings for current projects, but now under the MUSIC section you can hear me performing, as a solo act and with various bands and artists.
They're full length Mp3 files so they are downloadable…for FREE!
Band & Jam Changes
My schedule has thinned out a bit partly as a result of my hospital stay in August (see below) and partly because of an ailing economy. It seems every business is hurting. I am doing more solo work, less students, and dropped a project or two. I expect things to pick up, with even a FUX gig or two on the horizon.
On Wednesday Nigh'st Open Mic at The Perk I will now host every other Wednesday, with the alternative ones being hosted by Justin Wagner. I'm also no longer with Mad Dog but starting my own bands with some other talented, mature and experienced more local players …probably under the Kind Of Blue moniker for now. And finally guitar instruction and private lessons are now open to private in-home lessons and 3 instead of 5 days a week in the music stores West End Music(Allentown) and Guitar Villa (Quakertown.)
Hospital Update
The reason I dropped of the radar in August was not heat exhaustion but liver failure. This particular type is known as Hepatic Encephalopathy and is caused by anything from drugs and alcohol to Tylenol abuse.
It causes the poorly or non-functioning liver to send ammonia to the brain, causing an altered level of consciousness, hallucinations and ultimately death. In my case it's probably treatable but there's more tests to be done before any doctor says "yeah, here's your way out."
Right now I feel great and playing is coming back but I am on a few meds to help me along. Failure to take these would risk me getting weirded out, like tripping again. Once I get stabilized I still may go through treatment for up to a year to cure some of the bad effects of my past drug abuse.
So the past can always catch up with you. It makes me sad and a little depressed that after building up a new life with my wonderful wife and great playing opportunities that it's all in jeopardy because of my past when I didn't give a damn. Just say NO kids! Fortunately,
the doctors said I can still burn all the guitars I want!
Tim from The FUX getting married!
With Tim on tour with The FUX, Sherwood Forest, Nottingham, England 2001
Tim! We're still playing together in NYC. Some of my favorite memories:
I met Tim at 2nd Av Bar in Beth PA around 1996. It was funny, on one end of the bar were The Fux and gang, punk rockers and such, on the other end were the owners-big muscle/karate guys. Tim walks in with purple hair and just goes safely to the very middle of the bar. "Hey man" I yelled over, "you belong down here!"
Tim was my first student. In my Bio I mention someone who went from knowing nothing to playing on stage with me in England within one year. That's Tim.
Tim was always very quiet and reserved. I was careful to not ask questions that could be answered as just a "yes" or a "no" or that's all I got.
As we played more in the US, UK, and other countries the confidence came. One of our drummers (Ron Wexler, in the UK phone booth on the front page) got Tim into grappling-a form of wrestling and karate.
Tim also had a great memory. I'd forget my own damn lyrics, he'd remember every venue we played, the bands that were on the bill, and most of their names. Total recall.
Tim took a lot of crap from me. I was ambitious and eager to work The FUX and did almost anything to get them gigs and he was right there and ready. Like we'd drive to shows with known bands and beg them to squeeze us in as a 4th act. Or we'd lose a gig while on the road and stop at a larger town and walk center city until someone pointed us to a punk venue to play at.
Life on the road is tough going and it is easy to get on each other's nerves, but Tim was always pretty cool and collected about it.
Well I'm real happy for you Tim and An (pronounced "On") and I still really enjoy the NYC jobs and no one will ever replace you. So I'll see you at the reception and in NYC on Sunday Nov 18. Oh yeah, we have a request for The FUX Fri Dec 14 at the Kung Fu Necktie in Philly! Until death do we part!
God Bless you two
Roman disappears into Emergency Room
ICU for most of August
WHAT HAPPENEDED?
Having a blast in May (NYC) with Joe Mac (right before he had a stroke!)
In August (on left at Grumpy's BBQ) barely able to hold it together after ICU.
Joe and I are both recovering quickly and well
I know there has been a lot of questions and rumors. Why did I disappear in August without a trace and how did I end up in a hospital? The story so far:
Basically it was about to be my most successful summer yet. I had almost every night booked from May through August. Festivals, jams, benefits, and much of it outdoors.
But they were also calling for heat waves for most of it. I was exhausted by June and told by a doctor to slow down. What? Say no to a job? That's crazy. So it's back to my next job like everyone else, trying to stay cool in between sets, setting up, tearing down, etc.
I've been drinking again for a few years, but no drugs or anything like that. But something weird started happening. It was like I was really on drugs, tripping and hallucinating. I felt fuzzy and my thinking was unclear. Sometimes I'd get in my car for some air conditioning, have a drink, get my breath, and would feel clear headed again. But then it was back to work. By now it was really turning into hard work just to concentrate at all.
It all came to a head in August. I knew something was wrong and my wife took me to the emergency room. Something was seriously wrong.
It wasn't just drinking. For that they detoxify you in a few days and cut you loose in a week. I was in in bed in the Intensive Care Unit (ICU) for TWO WEEKS totally unconscience. Tubes and crap all over me. Then I was still there in the ICU over a week while conscience for testing.
My wife had to cancel my gigs, jobs, and students. So many of you tried to visit they restricted it to family only AND a password (all of a sudden everybody was 'family.") But thank you, all of you!
So it's complex kidney problems. Combined with the alcohol, heat, not eating or sleeping right, I was literally hallucinating. It took two more weeks to figure it out and start balancing my …guts or whatever.
I feel good, I don't hurt or anything. Straight edge, like the FUX days.no booze or drugs. The med's I do take are not pain killers or anything like that. I'm getting clearer and more focused again, and it feels good.
Ready to rock like always. Slow down, make it count, lots of attitude. My chops are coming back more every day.
But there's tests to be done, answers to find, and some very close monitoring for me for a while. But I don't want this site to be my medical journal, so I'll end my sob story here. I just wanted you all to know it wasn't a drop-down drunk talking to you or a drug addict.
OK get out and enjoy life! Come out and see me ( you and your big family) and I'll tell ya some great hallucinations I had being unconscience for two weeks!
Hi everyone. Man it's good to be back. I MEAN it!
I'm sure there's lots of of questions and rumors circulating my mysterious absence so I'll try to be brief and stick to facts
1) I passed out TWICE. June and August. Both during outdoor shows in the middle of a heat-wave. The second time took an ambulance. (This makes a total of 5 times I went to the edge and looked down)
2) The diagnoses was internal bleeding, heat exhaustion, kidney and gastrointestinal complications, eating badly, sleeping badly, drinking plenty.
3) Fortunately the gigs and jams where full of friends ready to cover with even some MD's offering to help (me AND the jam) Thanks!
5) My weight and health are now slowly recovering and I will continue the jams in September for now and start accepting students in October
6) and very important to me: I'm not the only one in this mess. I now owe over $5000 and I even have my own insurance. What about all these others right behind me who would loose everything?
Well I think I have some some good ideas and solutions and I welcome you to talk to me about them
OK see see you all soon, I have some great stories for ya!
Matt "Ain' t Dead Yet" Roman
April 2012
Hi everyone! NEWS!
My "Roman Alone" jobs are getting noticed. I'll have a demo and sample of it on site soon. I'm really not quite "alone," I have my trusty sidekick "Trigger" – a Boss Loop station, to help me as a background rhythm guitarist. But only for one overdub at most.
I play a lot of songs I learned over the years, but as instrumentals, which could be anything from Miles to Hendrix. Either way they're recognizable songs to enjoy or just have as background music to ignore and enjoy a fine dinner while talking at a whisper to your loved one.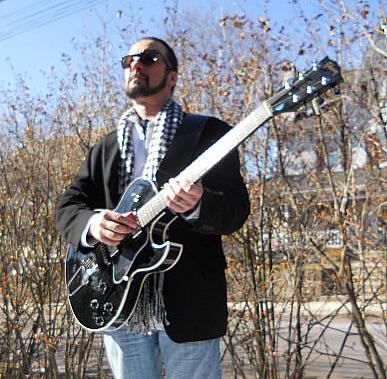 Watch for my Roman Alone gigs in fine dining restaurants and cafe's in Bucks county.
On the totally other side of the spectrum, The (OMG) FUX.
First a quick explanation. The band was named "The Fux" just to NOT be playable on radio, pronounced without embarrassment, or printed in press. As the initial joke became successful it was changed to various PC friendly options: FUX,, File Under X, The FUX, etc.
My most cathartic, violent, straight edge, hard core punk attitude manifested itself in this band. Although it meant being banned from local establishments in the Lehigh Valley who simply didn't get it, The FUX show opened up doors all across the country and even Europe.
The FUX toured from 1996 to 2010, produced a demo tape, vinyl record, 3 full CD's, and appeared on countless compilations. Eventually The FUX morphed into Roman & The Heard as we got lives, real jobs, and personnel changed. I gave up touring to sit happy and local in NYC, hanging once a month or so at Otto's Shrunken Head with a lot of the old CBGB's crowd. (Don't know that name? Shame on you! Google it.)
But now see the original bad boy power trio of Scott "Bearclaw" Kelly, Tim "Timid" Sostak, and myself, your humble narrator, perform two shows with other up and coming original energetic acts in Quakertown, PA and Perkasie, PA. Wow, just like the old days!
Why there? I live there! Even better, The Eagle Hotel in Quakertown is the newest scene for crazy original music. They sponsor the punk rock jam every 1st and 3rd Tuesday. And The Perk is also catering to the new local live music scene, from jam bands to whatever is entertaining.
Poster for a Fux show in Milan, Italy.
A huge building that was once an insane asylum.
Half of it was still operating, they other half was punk rock shows!
Yikes! Which is worse?!?
Find out more, it don't cost nothin. Go to the FUX website, link available on my front page. And watch for various old school FUX posters at the bottom.
Teaching: I have been asked to participate in the new Allentown Pa School of Rock which is taking over the teaching program at Dave Phillips. At this point I don't know enough about their methods but have pros and cons about it. It begins in May with an open house the last two Sundays of April. My student schedule there will remain in tact throughout May.
Next in the teaching category is D-Town Guitar in Doylestown. I'm there on Monday now and may expand. It's an awesome boutique store with vintage and custom stuff like I have never seen. I'm like a kid in a candy shop! As a music store salesman once told me "it's a good thing I'm not rich or I'd be so broke!"
Last but not least JAMS! I teach guitar and put my money where my mouth is. Learn with me, play with me.
Tuesdays: 1st & 3rd at The Eagle Hotel, insane anything goes jams, Quakertown.
Last Tuesday Jazz and Blues Jam at The Washington House, Sellersville.
Every Wednesday Open Mic at The Perk, Perkasie, bands also welcome.
Every Thursday rock out with blues and fusion at Grumpy's BBQ Jam, Mechanicsville, Pa
Oh yeah! NYC Sunday April 22. Roman & The Heard. No May show. MAYBE one in June. Join me, Timid, Jean and Joe for an ass-kicking set of crazy rock, punk, and blues that's practically illegal. Well some of it is.
Good luck and God Bless! Music is the path to salvation and serenity. Anyway it worked for me.
Roman
With my wonderful Ellie on the way to Times Square
after playing CBGB's "Last New Year's Eve Party Ever"
2005/2006
March 2012
Great rockin at Otto's Shrunken Head NYC. This month was Sunday March 11.
Next month is Sunday April 22. No show in May.
Reserve your ride now! Read more about Otto's below
Hi Everybody!
Whew! The Holidays along with January and February flew by. I was nice and busy! Thanks for all who helped, I'm grateful. It's good to write up some NEWS again.
OK WHAT'S NEW:
INSTRUCTION
I've temporarily stopped teaching in Phillipsburg, NJ at Dave Phillips due to time, travel, and low attendance. I still teach at their Allentown location. BUT
I'm teaching in a new guitar store, D-town Guitars & Skateboards, in Doylestown, PA. D-town is a vintage & boutique collectors dream! Beautiful gear, amps, effects, and Rob is super laid back and cool. I'm there only on Mondays, so anyone interested in Bucks/New Hope/Doylestown area reserve a time slot now! D-town Guitars
BANDS
MAD DOG is rolling along nicely with some actual management. My solo jobs have been extremely well received. But the big story on Action News is THE FUX!?! You may have noticed some old FUX pictures on the site. Original members Tim "Timid" Sostak, Scott "Bearclaw" Kelly and myself recently got back together and played at the Perk under my NYC alias Roman & The Heard but it was so fun and successful we were asked to do more. Watch for The FUX! in May at The Perk and The Eagle Hotel.
JAMS
Speaking of the EAGLE HOTEL… wow! This is the new punk rock & original music scene in the Lehigh Valley/Bucks areas. "Mighty Joe Young" Covell spearheads original weekend bands there and is the House Drummer for my Tuesday Night Trauma Punk Rock Jam. It's only on the 1st and 3rd Tuesdays, but Matt Rittenhouse (Punkabilly's, Fury Fight) runs the alternate Tuesdays as an acoustic alternative. Man these Tuesdays are exciting. Join Joe, Suavek and myself with as much gear, pedals, and volume as you want! This is the place to let loose man, we play loud and TURN IT UP.
Up and coming bands-this is the night to rehearse your set.
Don't forget Wednesday Open Mic at the Perk
and
Thursday rockin' and blues at Grumpy's Roadside BBQ
NYC & Otto's Shrunken Head.
I'm still in NYC at Otto's Shrunken Head but only once a month and I still offer to let others tag along or follow me up. I know the ins and outs, it's an easy parking spot, some beautiful parks, and historical sights within walking distance of the club. It's an early and short Sunday Night set so we like to get up early to enjoy the day then drift over to the club. And Otto's is real friendly to anyone I bring in the door. See famous washed up celebrities and aging rockers! You can't have more fun in NYC much cheaper than hanging with my gang Roman & The Heard. Stop missing out!
Otto's Shrunken Head Wind Down Sunday presented by Frank Wood
Just hangin'…Thompkins Square Park around the corner from Otto's
A brief history about Otto's Shrunken Head,
The Fux, Frank Wood, and Roman & The Heard
What's the big deal? Why do I go on and on about this NYC dive? There's millions of them! Because it's MORE than a just a dive!
When the FUX first played Otto's in 2001 we didn't get it. It was a Tiki Bar with a back room and we rolled in with Marshall stacks. Frank Wood is a NYC native who worked security for Bill Graham and knew Hendrix, Miles, all of them back in the day. (And he got a story about all of them for ya.)
When the FUX first met Frank Wood he was running jams for original music in NYC anywhere he could-Chinatown, Brooklyn, Upper, Lower, East Side, West Side, anywhere. Eventually the places closed or failed. Frank dug The FUX and booked us in his joints and eventually gave us a tour to Florida. A total blast but another story.
Anyway, "Wood" eventually got Otto's as a Sunday night hang that has stayed running for years now. That's quite a feat in NYC or anywhere these days. Not even the legendary CBGB's managed to continue. Otto's and Frank Wood's Wind Down Sundays are now home to the many NYC greats that are looking for a place to hang, rehearse their new acts, or see new acts. I've met players from Blondie, Talking Heads, Television and played with guys that worked with Jimi Hendrix, Johnny Thunders, and The Stooges.
We're all just hangin' at The Head. I had The FUX there for years but eventually some of these people were sitting in regularly. It wasn't the FUX anymore. It was renamed Roman & The Heard by Electro-Harmonix mad scientist Allan Otto (no relation to Otto's) who saw us one time and was totally impressed. Since then it has evolved into some regular performers, all of great pasts.
I'm telling ya don't ignore the opportunity. It can disappear at any moment. As Frank Wood said "I see bigger places than this go down all the time.'
OK everybody I sure hope to see all of you somewhere sometime and soon! Thanks for listening!
Roman
2012! SCARY!
Happy New Years Everybody!
It's the time of year when we reflect on the past one, think of the new one, what went good, what went bad, what can change. Of course it's typically the time when you make a "resolution" to change SOMETHING for the better.
I'm grateful for a lot of new opportunities I had this year. I had some great unusual gigs: pool parties, with the Jewish band Schlock Rock, entertaining the famous Isgro's Bakery Christmas party in Philly's Italian Maret.
And some plain just-super-cool gigs, opening for Ray Manzerek with Kind Of Blue, opening for Popa Chubby with The Heard, bringing The Heard, essentially The FUX, to The Perk. Wow! Never thought I'd see that day! And of course all the monthly NYC gigs at Otto's: despite the low pay (I lose money by the time I get home) it's so much fun and experience.
There were some new jam opportunities too, some good (The Eagle) some bad (The Firehouse, which has now been closed.) Grumpy's is having it tough too but we didn't fold. For the future I'm excited about the Eagle because it's so loose and crazy…it reminds me of a former notorious FUX haunt in Beth called 2nd Av, where we kind of "cut our teeth."
On the other hand the economy tanked. Student registration is down (but picking up) Some of my regular jams I've had to take pay cuts to provide my bands regular gigs. I'm doing solo acts, which I never thought was possible.
But things change. Change is the only thing that's constant. So here's to a New Year, and new changes! Of course, they come in and good and bad, so let's "JAM" our way thru it!
Thanks, and have a great New Year!
Roman