I don't have any Grammy's. I'm not in Guitar Player Magazine. I have respect now from my peers though, and for me that's success. I see my picture in the paper occasionally…that's especially cool when it's in a foreign country. Every once in a while I get some parents coming up to me thanking me for helping their son or daughter have an interest in music, which I found to be even more satisfying than an award or newspaper clipping. My students get awards. A few of my students have scholarships to music schools now, and get their own press. I try to create chances for them that I never got. Still, I do have some stuff on my wall:
Lehigh Valley Music Awards 2002: Best punk Band
Lehigh Valley Music Awards 2003: Best Lyricist, Best Website, Best Live Performance, Best Punk band, Punk CD
Lehigh Valley Music Awards 2004: Best punk Band, Best Live Performance
Lehigh Valley Music Awards 2005: Best Punk Band
Film Soundtrack: Grace And The Storm (2004) the song  "Drugs & Candy" performed by Signal To Noise for movie intro
Video Appearance: The Dwarves-F*** You Up And Get Live
Lots of autographed photos of me with cool guitar masters and pros, some of whom I was playing with on stage.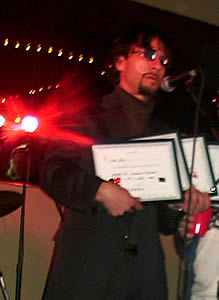 I don't count the mentions or collect the press clippings anymore…I have my very first ones saved.  There are some reviews that you can read on my websites, and there's been pictures, praises, and complaints from here to Europe. The first time my hometown newspaper finally printed "The FUX" in 1999 was a big personal victory for me. My most recent mention as of this writing was last week (June 2006), a local magazine advertising the Kids Jam I'm running.
I never forget that there was another time my name appeared frequently…in the police section of the same newspaper. My parents had to see that OFTEN. And there was a time that I never thought I'd get out of a jail cell, much less out of town, or the country. I am very grateful to have had the help and opportunity to turn my life around and that I was able to open up my eyes enough to do it. 
I used to lecture on the prison circuit, having be
come somewhat of a success by incarceration standards, but mainly I try to compensate for my "checkered past" by creating musical opportunities for others. At the same time I have one goal after another to gladly pursue and challenge myself with for the rest of my life. I thank God that before both of my parents passed away they got to see plenty of the good press. This honest and open account of my life you just read is dedicated to them.