After completing my second tour of the UK I was approached to give lessons in local music stores. I had great results with the method I had adapted from CALVIN HARRIS in Philadelphia and had some kids up on stage within two months of lessons at some of the local blues jams.
I began having questions of my own and approached other local teachers looking for counsel, among them AL GUERRA, MIKE DUGAN, and CRAIG THATCHER, who helped me understand the fundamentals that blues required. When I combined that with constantly going to jams to learn, making embarrassing mistakes, and playing with so many different players, I grew much more in all aspects: from theory, to touch and tone, to performance and technique.
I currently study under TOM KOZIC, who teaches at local colleges and universities. He worked with Howard Roberts, Joe Pass, Jack Wilkins, Tal Farlow, and Kenny Burrell, winning the Kenny Burrell Award at age 19. At 20 years old he was playing the biggest venues in the world with Eddie Rabbit, who had some big hits then. More on him and current bandmates at: Nelson Hill
PAT MARTINO  
www.patmartino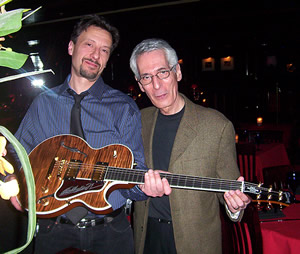 .com
I am also currently working on a curriculum prepared for me by PAT MARTINO.  Pat is a world recognized guitarist of the highest order. To have had him accept me as a student is a great honor. His method is similar to my approach in that it is based on an individual, not a "method", but of course it's more intense. And, like mine, it revolves around concepts and patterns more than traditional theory. Man, just check out this man's website and story…it's incredible! You won't believe HIS story and what happened to him. It's unique and inspirational.
Tom Kozic and Pat Martino's methods had a profound effect on not only my own personal growth but my teaching methods and principles as well. All my teachers enlightened me about not only music, but my focus, path and endless journey in life.http://www.patmartino.com/
BOBBY RADCLIFF www.myspace.com/bobbyradcliff
Bobby was taken in by "Magic" Sam Magette on the West Side of Chicago in the 1960's during it's most glorious blues era. He hung out with Buddy Guy, Muddy Waters, all the greats. He drove Jimi Hendrix, not yet a star, around in his mom's station wagon after his arrival from England. Now living in NYC, I looked him up for lessons on the stripped down real Chicago style to do a Mad Dog tour. We've since become friends and he joins me on stage whenever I play in town.