Roman Music
Gallery

Otto's Shrunken Head, July 20, 2008


Roman, Paul Carouso (Jimi Hendrix), Allan Otto (Electro Harmonix),
Bobby Radcliff (Magic Sam, Buddy Guy, Steve Guyger)
Pictures

Check out THESE CATEGORIES! Maybe you're in them!


Kind Of Blue Gallery
Photos of Kind of Blue shows


Misc. Photo Gallery
More Otto's Shrunken Head, The Washington House Jams,
Grumpy's Thursday Night Jams, other misc. events



Duke Robillard
Celebrity Gallery
Well known artists I've had the honor to play with, learn from, or meet



Guitar Gallery
Details and stories of guitars I use and abuse.
Music = Life: Lessons backstage from Pat Martino, some blues tips from Bobby Radcliff.

Other good sources of advice: the late Drew Glackin (REM, The Silo's), John Popper (Blues Traveler),
with jam-circuit master Steve Kimmock, in NYC at Harlem's EZ's Woodshed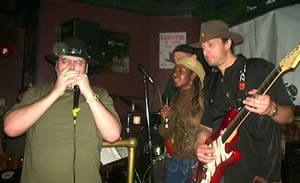 All content © 2014 Romanmusic and Uncle Wagon Records (UWR)